Watch our exhibition preview:
'A revelatory retrospective' - The Telegraph
Edward Bawden (1903-89) was a master printmaker, illustrator, watercolourist and designer and is today recognised as one of the most influential artists of his generation. Whilst he is perhaps best-known for his commercial work for companies such as Twinings and Fortnum & Mason, and his linocuts depicting everyday England, a significant body of work remains relatively unknown.
This exhibition will bring together 160 works to re-introduce Bawden as a hugely versatile artist, who effortlessly pushed the boundaries between fine and commercial art. It will be the first to show the full breadth of Bawden's artistic output, covering each of the many disciplines he mastered over his 60-year career, as well as exploring his lesser-known achievements as a fine artist.
Arranged thematically it will explore the evolution in his style across recurring motifs such as leisure, nature and architecture. Highlights will include a series of Bawden's moving war portraits, as well as a substantial amount of prints and watercolours loaned from private collections - many which have never been exhibited publicly before.

RELATED EVENTS

Curator's Talk - 24 May
Join the Edward Bawden curator James Russell, author of The Lost Watercolours of Edward Bawden (Mainstone Press), a study of Bawden's 1930s paintings, and titles devoted to Eric Ravilious and other artists of the period, to explore Bawden's life and work.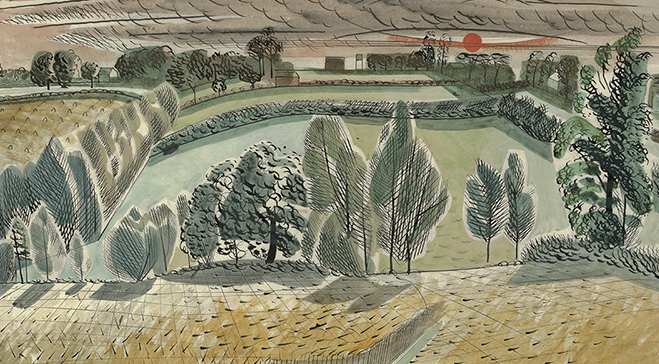 World Off-Duty Lecture Series - 24 May - 5 July
We're taking inspiration from Edward Bawden's fascination with the "world off duty" to bring you a lecture series exploring themes ranging from taste to debauchery, with guest speakers including Stephen Bayley, the founding director of the Design Museum, and Peter Avery, studio assistant to Bawden.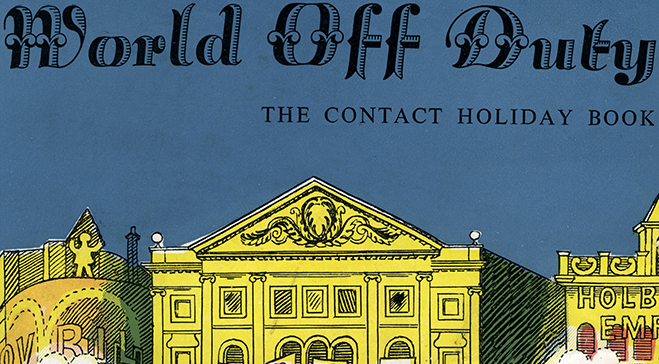 Edward Bawden: Early Introductions - 29 June
Gain exclusive access to Edward Bawden with your little ones. Buggies, roaming toddlers and excited squeals are encouraged. There will also be an art-making activity to enjoy in these family-friendly viewings.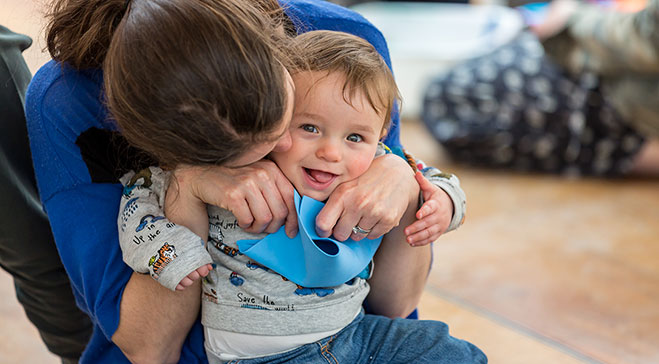 Gallery Lates: By the Seaside - 13 July
Grab your bucket and spade for the alternative British summertime experience! Inspired by our Edward Bawden exhibition, we're taking you on a trip to the seaside. From nostalgic tradition to tongue-in-cheek kitsch, we'll be celebrating the world off duty through workshops, experiences and performances.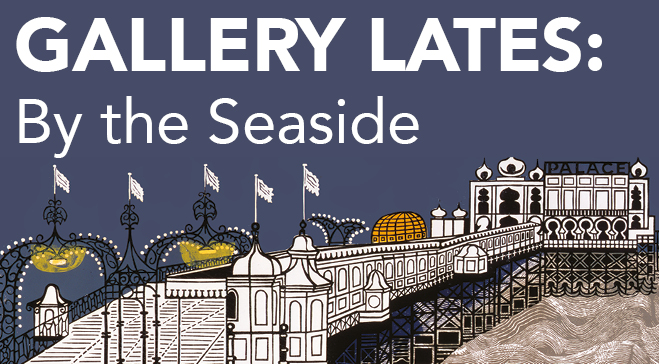 Generously supported by Dave and Reba Williams

With thanks to

Official Paint Partner

Media Partner

Image credits: Edward Bawden, [Aesop's Fables] Gnat and Lion, 1970, (detail) Colour linocut on paper, Trustees of the Cecil Higgins Art Gallery (The Higgins Bedford), © Estate of Edward Bawden; Edward Bawden, Brighton Pier, 1958, (detail) Linocut on paper, Trustees of the Cecil Higgins Art Gallery (The Higgins Bedford), © Estate of Edward Bawden; Edward Bawden, Untitled watercolour ('Landscape with Sunset'), 1927, (detail) Watercolour, Private Collection, © Estate of Edward Bawden

Related events