Sample the food of top-chef Neil Rankin in The Colour Palace for the perfect summer Barbecue.
Join us for an evening of Barbeque cooking splendor with a menu inspired by the highly acclaimed talents of Neil Rankin. The Gathered Table lead chef Richard Robinson and the team present Neil's fusion of bold and global flavours with the best of British meats and imaginative salad ingredients. And for the non-meat eaters, inventive vegetarian BBQ options are also available.
The evening with be a casual standing dining event with some garden seating available. The menu includes a selection of Barbecue, salad and dessert, plus two complimentary drinks. See Menu>>
The Gathered Table 
A gathering of the best and brightest minds – renowned chefs, tech innovators, experts in health and nutrition, sustainability champions and aspirational creatives – The Gathered Table's purpose is to predict and share new trends in food and drink to deliver real customer insight that challenges the status quo. Collaborating at every level, these thought leaders set the agenda and provide a clear advantage for Gather & Gather. Their fresh thinking will help to shape the future of workplace dining, looking beyond the everyday to re-imagine a happier, healthier and more productive workforce of tomorrow.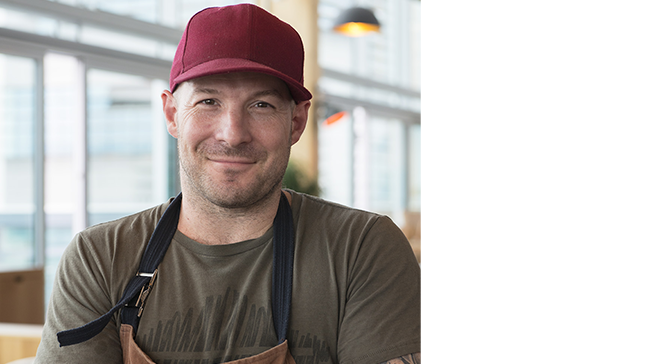 Neil Rankin
Neil is the Chef and owner of temper, with three restaurants across London. temper's first site in Soho features an open kitchen with live fire cooking, a taco bar upstairs and plenty of meat & mezcal! He opened the second site in 2017 and the third in Covent Garden in 2018, which features the same attention to whole animal butchery as Soho and The City.

Neil began his career as a chef in fine-dining kitchens under Michael Wignall and Nuno Mendes, and at Rhodes 24 and The French Table. He went on to work at Barbecoa, the restaurant which saw Jamie Oliver team up with Adam Perry Lang, where his love for charcoal cooking began. He was formerly Head Chef at Pitt Cue and Exec Chef for Noble Inns, where Neil launched the Smokehouse restaurants. Neil is the author of the groundbreaking book Low and Slow: How to cook meat (2016) – acclaimed by chefs and critics alike as a definitive guide to meat cooking.
Please note the Pavilion is an outdoor space so please dress for the weather and bring something warm to wrap up with.