Top things to see at the Gallery
Pay a visit to the Gallery's founders
Did you know that the Gallery's founders are buried on-site in Sir John Soane's famous mausoleum? On 7 January 1811 art collector Sir Peter Francis Bourgeois RA died bequeathing to Dulwich College 360 paintings that he and fellow art dealer Noel Desenfans had collected. Bourgeois left £2000 to refurbish the existing gallery at Dulwich and £1000 for a mausoleum for himself and Mr and Mrs Desenfans. He recommended his friend Sir John Soane as the architect. The paintings were given under the condition that they be for the "inspection of the public" and so Soane put forth plans for a brand new gallery, the world's very first purpose-built public art gallery, integrating the mausoleum into the design, a fitting tribute to his late friend to house both the founders and paintings. Margaret and Noel Desenfans and Sir Francis Bourgeois are all laid to rest in the coffins on display. The fourth coffin remains empty.
Wander to Walking the Dog
Don't forget to wander around the Gallery's gardens, the best place to admire the exterior of Sir John Soane's iconic building and visit Peter Randall Page's sculpture. Walking the Dog, the Gallery's first piece of contemporary art, was acquired for the Gallery's 200th anniversary in 2011 with the help of the ArtFund. The carving across the three stones reflects the Greek key symbol that runs along the top of the external façade of the Gallery. The Gallery gardens also contain a variety of species of tree including species of tree including a Kentucky coffee tree, a Golden Indian Bean Tree and a Black Mulberry.
See Canaletto at work
The Gallery owns two masterpieces by Italian 18th century old master painter Giovanni Antonio Canal, better known as Canaletto. In 1746 Canaletto moved to England where his work was growing in popularity. His 1754 painting of A View of Old Walton Bridge hangs in Gallery 4 and includes the painter himself complete with easel and palette standing on the edge of the Thames, see if you can spot him.
Discover how Sir John Soane's iconic roof influenced the British telephone box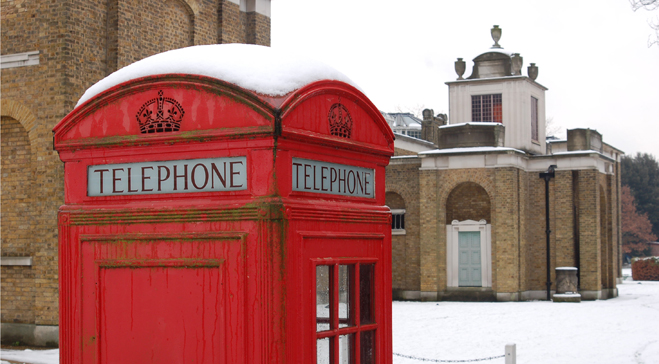 After you exit the shop turn left out of the sliding door into the grounds at the back of the Gallery and you will see our very own classic red telephone box. Observe closely the top of the telephone box and look to your left to see the roof of the Gallery's famous mausoleum. Notice how the top of the mausoleum is reflected in the domed roof of the telephone box. Giles Gilbert Scott's design was directly influenced by Soane's iconic dome, known as a pendentive roof.
Take your picture with the Girl at the Window
Did you know that you can take photographs throughout our Collection? Be inspired by the stunning architecture and lighting and share your own unique take on the Gallery. Soane's use of skylights set a blueprint for Gallery design and is still used in the Gallery today. Take a photo of Rembrandt's Girl at a Window in Gallery 11, one of our most famous works, and see how it changes depending on the time of day. Share your images with us @dulwichgallery