Leading Lights
Support our annual appeal and bring our paintings to sparkling new light
Did you spot the lion?*
All of the paintings in our collection have secrets to tell. Often, they are hiding in plain sight. From the immaculate detail of the symbolic insects in Jan van Huysum's Vase with Flowers, to the charming lion in Gerrit Dou's A Woman Playing a Clavichord, we want to bring out the untold stories of our paintings by installing a state of the art LED lighting system, already in place in our exhibition spaces.
Where it all began
Together with ERCO lighting we installed a brand new LED system in our exhibition spaces, which enabled us to be creative and bring out the magic of Rembrandt's masterpieces in our latest exhibition, Rembrandt's Light. From the rising dawn and dusk of Christ and St Mary Magdalene at the tomb, to the glint on the nose of our very own Girl at a Window, our visitors saw Rembrandt's paintings in a new light. 
We now want to roll this flexible system out across the Gallery so that the rest of our Collection can shine.
But we need your help to bring this experience to all our visitors. We need to raise the vital funds needed to give each of our paintings the star treatment they deserve.
Will you help us replace our outdated lighting system?
Why is it needed?
Reliability

• Our current system has reached the end of its life. Recent technical failures have shown it is becoming unreliable. There are currently only two people in the UK with the ability to repair this system. In addition, these bulbs are no longer sold which means replacement parts are very hard to come by. The next time the lights fail we will have no choice but to close parts of the building – or even the whole Gallery – while we wait for it to be fixed.

Greener energy

• When our lighting system was installed 20 years ago Halogen was the best lighting system available for museums and galleries. However, technology has advanced a lot since then. Galleries around the world are now moving to LED systems. One downside of Halogen bulbs is that they produce a lot of heat. In fact, only about 20% of the energy they use is converted into light. This means that for every £1 we spend on lighting the Gallery, approximately 80p is wasted. LED lights are much more efficient. Making this change will reduce the cost of lighting the Gallery while also reducing the environmental impact of our work.

• LED lights also emit far less UV than Halogen lights. UV can be harmful to artworks – and especially delicate works on paper. Making this change will open new opportunities for the types of work we can display at Dulwich Picture Gallery.

Creativity

• The new LED system will provide us greater control over how we light individual works. This will enable us to reduce the levels of glare you might experience, particularly on larger paintings. And, while Halogen bulbs can often distort the colour you see, the new LED system will show you these masterpieces in their true colours, as the artists intended them to be seen.

We need your help to raise the money needed to upgrade our lighting system and bring leading lights to the Gallery in 2020.

* Couldn't find the lion? Here he is...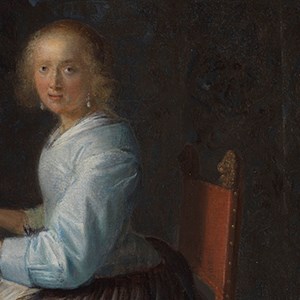 *Couldn't find the baby? He's below...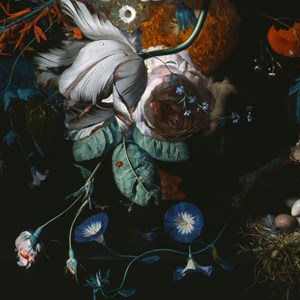 #LeadingLights
@DulwichGallery
Images: Gerrit Dou, A Woman Playing a Clavichord, c.1665, oil on oak panel; Anthony van Dyck, Samson and Delilah, c.1618-20, oil on canvas; Jan van Huysum, Vase with Flowers, c.1715, oil on panel, all from Dulwich Picture Gallery's Collection