The Private Made Public: 2017 Appeal
Revealing hidden treasures at Dulwich Picture Gallery
In 1817 we opened our doors for the first time to the public. Old Master paintings, previously the preserve of just a privileged few, were made accessible to the public. It marked a seismic cultural shift - the first of its kind in the world. For 200 years since, anyone seeking inspiration has been welcome at Dulwich. Our Visitor Books record an extraordinary mix of people from all walks of life - artists, academics, international travellers, local residents and some very famous names, including Claude Monet, Virginia Woolf, Van Gogh and Rodin. 
From March 2017 onwards, three remarkable paintings will be displayed in the Gallery, each with the potential to speak to existing works and artists within Dulwich's own collection. The Private Made Public series reveals hidden artworks of exceptional quality but usually held out of sight of the general public.
We receive no regular government funding and cannot continue to deliver displays and exhibitions without donations. Please help us celebrate by giving what you can to bring these previously inaccessible works into public view.
"This project epitomises something so fundamental about what makes Dulwich Picture Gallery special … it gives a powerful and imaginative demonstration of what it has always done so well - make the private, public." - Ian Dejardin, the Sackler Director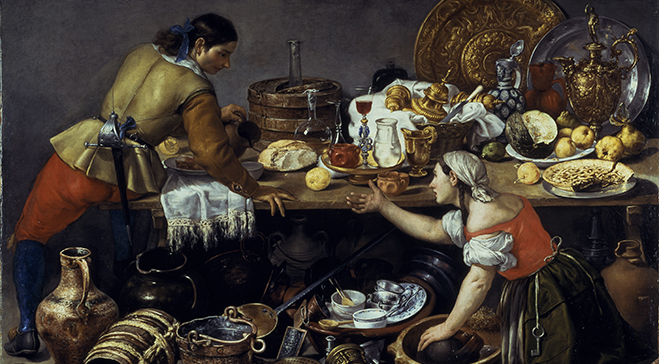 The First Visitors 
Tuesday 14 March - Sunday 4 June
James Stephanoff's watercolour The Viewing at Dulwich Picture Gallery, c. 1830 depicts the Gallery's interior and some of its earliest visitors. Acquired in 2012 from a private collection and displayed alongside an example of the Gallery's visitor books, the display will pay homage to some of those first members of the public when our legacy began.
Antonio de Pereda, Two Figures at a Kitchen Table
Tuesday 6 June - Sunday 8 October
A masterpiece of seventeenth-century Spanish still life brought to the public from the private apartments at Penrhyn Castle, National Trust, Gwynedd, Wales.
Jacopo Bassano, The Adoration of Kings
Tuesday 10 Oct 2017 - Sunday 28 Jan 2018
Accessible by appointment only in Burghley House in Lincolnshire, this dazzling renaissance treasure will be given the spotlight in Dulwich for a new London audience.