A rhythm of figures cascade through Poussin's Sacraments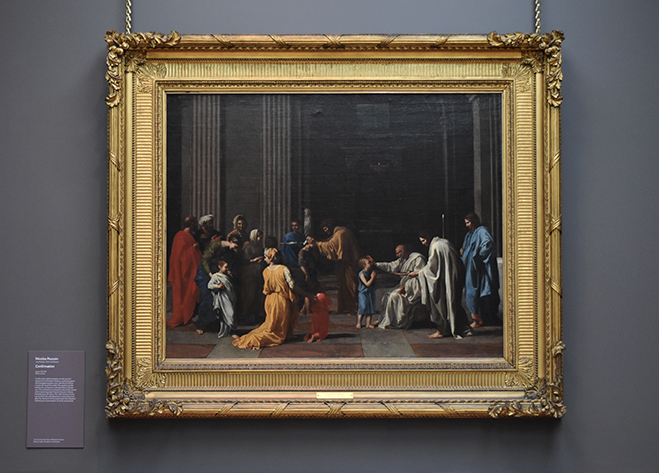 Nicolas Poussin (1594–1665) was a perfectionist. His working methods included setting up a small box, like a miniature theatre, and using wax models to help build an ideal composition with accurate depictions of light and shadow. Every juxtaposition was carefully considered by the artist – no more evident than in his first series of the Seven Sacraments where a rhythm of figures cascade into the drama of each scene.
Representing a high point in Western European art, three of the original seven paintings are now on display at Dulwich Picture Gallery after a generous long-term loan from the Duke of Rutland's Trustees. Eucharist, Confirmation (pictured) and Marriage are shown amongst Dulwich's own collection of works by the French master including the recently conserved Nurture of Bacchus.
Painted between 1637 and 1642, the Seven Sacraments were commissioned by Poussin's patron Cassiano dal Pozzo, an Italian scholar and patron of arts. Each painting illustrates a scene from the Sacraments of the Roman Catholic Church, consisting of the rites of Baptism, Confirmation, Eucharist, Penance, Extreme Unction, Ordination and Marriage. The series, when acquired by the 4th Duke of Rutland in 1786, was considered amongst the finest works in the Duke's collection. Unfortunately, their integrity as a set was broken when Penance was destroyed in a fire in 1816 and later when Baptism was acquired by the National Gallery of Art, Washington, in 1946. More recently, Ordination was acquired by the Kimbell Art Museum, Fort Worth, in 2011, and Extreme Unction by the Fitzwilliam Museum, Cambridge, in 2012.
"The Sacraments sum up what art can do –
not only in terms of line, colour and light,
but also regarding the intellectual, emotional
and spiritual experience of the viewer."
Helen Hillyard, Assistant Curator, Dulwich Picture Gallery
It was highly unusual in European art at the time to depict any of the Sacraments in any artistic medium and Poussin's Seven Sacraments was, as noted by British art historian Anthony Blunt, 'a project apparently without parallel'. Poussin believed that painting could convey ideas and emotions more powerfully than words. An immigrant in Rome, where he moved from Paris at the age of 30, he owed his success to his ability to create intense images, combining faith and erudition in a way that appealed to the intellectual circle surrounding Pope Urban VIII. The Sacraments are one of the most ambitious manifestations of these ideas in their celebration of the seven sacred rites of the Roman Catholic Church.
Poussin wrestled with the central questions of faith and practice addressed by each sacrament in turn, lending the set as a whole an experimental and intimate feel. He demonstrates their historic validity by tracing their origins to the actions of Christ and by the use of archaeological detail, recalling the usages of the early church. Emotional power and current relevance are conveyed by expression, gesture and telling detail; the scenes speak to us across the centuries of the power of ritual, creating intensely personal yet communal experiences.
Eucharist, Confirmation and Marriage are now on display in Gallery XII.