Gillian Wolfe receives Honorary Doctorate for her pioneering work at Dulwich Picture Gallery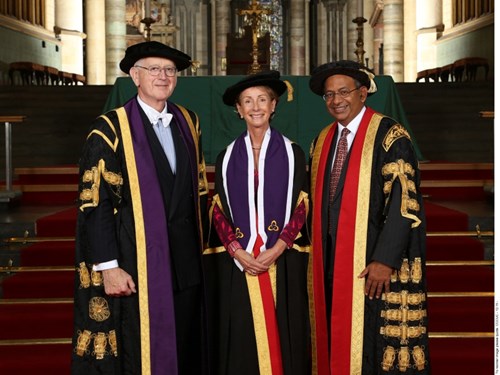 Gillian Wolfe, CBE, Director of Learning and Public Affairs at Dulwich Picture Gallery, has been awarded an Honorary Doctorate by Canterbury Christ Church University in recognition of her oustanding achievements in arts education. 
In a ceremony last week, in the historic Canterbury Cathedral, Gillian received her honour, along with over 1,800 students who also graduated as part of the University's September ceremonies. 
Gillian has been at Dulwich Picture Gallery since 1984 where she set-up the education programme that has become a national model of excellence with in-house and community programmes reaching out to diverse social and ethnic communities across London.
She has received 29 awards and commendations for pioneering programmes that bring fine art and creativity into the lives of the most hard to reach sections of society that set a new standard for museums. 
In developing a close and active relationship between the museum and community she devised an enormously wide span of public engagement and participation in arts, health and wellbeing.
Her arts programmes have been researched by university departments leading to the award winning publication, This is Living, by the Oxford Institute of Ageing based on five years research of her programme Good Times: Arts for Older People and the award winning programme Prescription for Art, in conjunction with various GP surgeries. In her advisory work for foundations, trusts and public funding bodies she has advised over 150 cultural organisations across the UK and has written eight art books for children.
Professor Paul Camic, Research Director for the University's Salomons Centre for Applied Psychology, introduced Gillian to the congregation in the Cathedral. He said: "Today I am honoured to be introducing a prize fighter for the arts. She has shown the importance of what arts can bring to people form different social backgrounds, ethnic groups, educational levels, ages and with different mental and physical capacities.
"Gillian has led the life of someone who believes the potential of the arts to impact positively on people's lives. For over 30 years she has been relentless in her efforts to make the arts available to the widest cross section of society and has developed many nationally recognised radical programmes. We are delighted to award her today with an Honorary Doctorate from Canterbury Christ Church University". 
Gillian said: "It is an immense privilege to receive an Honorary Doctorate from Christ Church Canterbury University.
"I owe a huge debt of gratitude to all the people who have so generously helped me over the last 30 years; without doubt it is their constant loyal support that has achieved this prestigious accolade.
"I've been very lucky to have had the freedom to create innovative routes to engage non-traditional audiences such as disaffected youth, those with mental and physical disability, the elderly and notably those suffering early stage dementia and their carers. They are all embraced in enhancing cultural experiences every day of the year. The reward is always seeing the delight and joy it brings."
Other Honorary Doctorates conferred at the University's September graduations include: Olympic Gold medallist, Lizzy Yarnold; children's television producer, Peter Firmin; President of the Investigatory Powers Tribunal, Sir John Mummery, and one of the world's leading ceramic artists, Edmund de Waal.
Professor Rama Thirunamachandran, Vice-Chancellor of Canterbury Christ Church University, said: "We are delighted to be able to honour such as distinguished group of individuals from a wide range of backgrounds. We look forward to welcoming them to the University.
"All have achieved great distinction and excellence within their chosen careers, demonstrating determination and ambition to achieve personal goals and to positively influence many different sections of society."