Sophia Mary Plender awarded MBE for Services to the Arts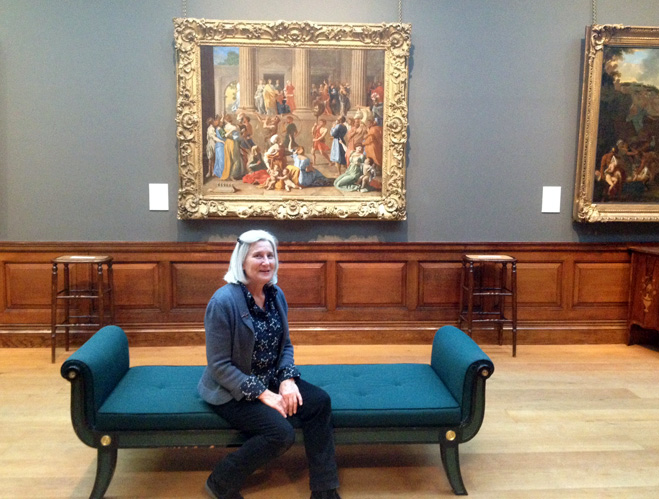 Earlier this year Painting Conservator and Restorer, Sophia Plender was awarded an MBE in the Queen's Birthday Honours list for recognition of her services to the arts.
Sophia has worked with Dulwich Picture Gallery since 1988 as a freelance consultant conservator, advising on the care and conservation of paintings within the collection and exhibitions programme- she has worked on numerous paintings in the Gallery's permanent collection, including works by Rembrandt and Murillo - "It is probable that there is no-one else living who knows the paintings in the Dulwich collection so intimately!" said Sackler Director of Dulwich, Ian Dejardin.
We caught up with Sophia recently to find out what life is like as a conservator and her thoughts on her time spent working with Dulwich.
What is a typical day like for a freelance conservator?
Conservation involves a variety of activities! Much of my time has been spent on conservation treatments in the studio, removing surface dirt and making sure that the painting's structure is secure. Other treatments are more extensive when old discoloured varnishes and overpaints are removed, followed by inpainting the old paint losses and applying a clear varnish. At the Gallery I check paintings with the curatorial department for any conservation issues. For exhibitions I check paintings during the installation and before packing on departure from the Gallery when the exhibition closes. I also meet and talk to conservation fund-givers and sponsors. Sometimes I spend the day on research in a library or visiting conservation colleagues in other museums or collections. I am excited and proud that a conservator is recognized with a public honour, because a conservator's role is discreet, which is necessary of course, and we do not have a public profile.
Are there any projects that you particularly enjoyed working on?
Projects have been varied with different sorts of challenges! I very much enjoyed working on the fine paintings such as Poussin's Triumph of David and Rembrandt's Girl at a Window. Others have been more challenging, such as the recent restoration of Venus and Adonis from the workshop of Titian, which was in a poor condition. The canvas was coming off the stretcher, there were extremely discoloured varnish layers and many old overpaints.
The Getty Grant funded project, completed in 2005, was another important and challenging time when the conservation of twenty six paintings was completed within four years. Many of these had been in store and unexhibitable for a very long time.
We hear you are publishing an article on the techniques of Nicolas Poussin
Yes- I'm currently writing an article with Aviva Burnstock, head of the conservation department at the Courtauld Institute, about the techniques used by Poussin for The Triumph of David.  We have re-examined information we gathered ten years ago when I was working on the painting, together with the x-ray, infrared photography and analysis of the pigments, and are writing about the development of the composition and the methods used. I always enjoy the opportunity to examine and research historic painting techniques.
Understanding the methods and materials used by painters is an important area of research that encourages exchange of ideas between art historians and conservators. 
In what way do you think the old masters are still relevant today?
They're part of our cultural history. Old master paintings are still appreciated, but now they may require more dynamic and active interpretation than in the past because the stories and subjects, whether biblical, religious or classical, occupy a less central part of our culture than the time in which they were painted. With imagery readily available through photography and digital technology, images are often brightly coloured, whereas old master colours may seem dull to a modern eye. Part of my role is to unearth information about the ageing of oil paint to help reconstruct an understanding of the original colours and the way these have changed with time. 
What would you say to someone who hasn't visited the Gallery's permanent collection before?
Well it has a very fine collection with an international reputation for having paintings by artists of the best quality! The paintings at Dulwich have a lovely setting in a building that has been a significant influence in the design of other art galleries. The history of the Dulwich collection is entertaining and quirky, as well as seriously interesting for its place in the history of taste and collecting. The paintings collected by Edward Alleyn and William Cartwright, actors and business men, provide an unusual record of the type of paintings purchased by 17th-century collectors of the 'middling sort', who were neither royal nor from the nobility. By contrast, the early 19th-century Bourgeois bequest was originally intended for the King of Poland and represents the taste of the Regency period.
Tough question we know, but do you have a favourite work in the collection?
It is difficult to choose because I have worked with so many of the paintings over the years - but there are some with a particular charm…One special painting is Rubens' oil sketch of Venus Mourning Adonis. It is moving, and simple yet beautifully executed. I also love the activity in Pynacker's Landscape with Sportsmen and Game where the bark peeling off the trunks of the birch trees seems alive before our eyes.