HRH The Prince of Wales visits Dulwich
There was a buzz in the air at the Gallery on Tuesday 11 November- in anticipation for the arrival of HRH The Prince of Wales who was coming to see 'From Forest to Sea: Emily Carr in British Columbia'. At 6.30pm on the dot, HRH entered the Gallery through a transformed front entrance which was illuminated with projections of Carr's paintings as well as poppies in recognition of Remembrance Day.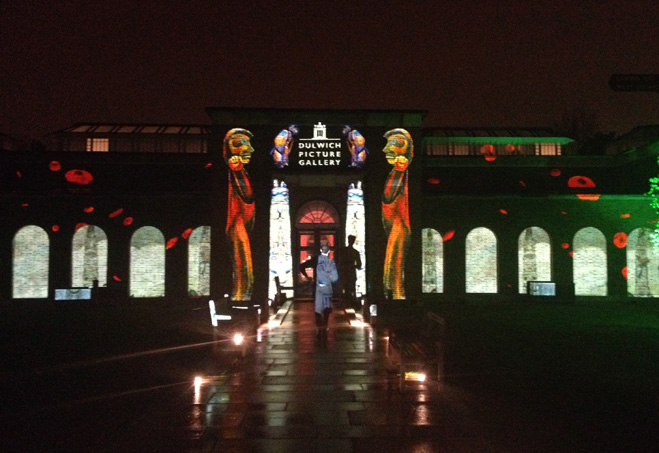 HRH was greeted by Haida Hereditary Chief and master carver, Jim Hart, the Gallery's Sackler Director and Co-Curator of the exhibition, Ian Dejardin, and Canadian High Commissioner Gordon Campbell as well as The Lord-Lieutenant of Greater London, Sir David Brewer, C.M.G., J.P and The Worshipful Mayor of Southwark, Cllr. Sunil Chopra.
The event, attended by students from Emily Carr University of Art + Design and The Prince's School of Traditional Arts, provided an opportunity to meet HRH and discuss past, current and future art making practises in Canada and Europe. Students presented their portfolios to HRH during a traditional art workshop where they also demonstrated techniques such as porcupine quilling.
During the event we found out more about the work of The Prince's School for Traditional Arts (PSTA), whichis implementing several arts-based initiatives with Canada's Indigenous Peoples, also known as First Nations.  
One project is with the Ahousaht First Nation in British Colombia, on Canada's West Coast (the very same area where Emily Carr drew so much of the inspiration for her art).  The project with the Ahousaht community delivered a series of workshops on the principles of traditional design with a focus on crafts skills such as Cedar bark weaving, building shelters and wood carving. The workshops were for both Elementary and High School pupils and aimed to further connect the community's different generations through art and traditional knowledge. A piece of a boardwalk that the students and community members had carved based on the practices and principles they had learned was on display at the Gallery during HRH's visit. 
A second initiative is a new and growing partnership between Canada's First Nations University and The PSTA which offers an exchange programme between PSTA Alumni and First Nations University teachers to share traditional knowledge and support each other's teaching practices. Assistant Professor and First Nation Artist Judy Anderson is in London for two months introducing PSTA MA students to First Nations art history as well as teaching beading and quilling techniques. The work created by the students was also presented to HRH.